By Melinda Clynes
As Gina Courts, co-owner of Ken's Fruit Market, sees it, her customers are like most Americans. They are price driven. So, the aim for the three Ken's Fruit Market stores is to provide affordable, fresh, local produce and meat.
"Our goal is to let everyday people, anybody, afford healthy food," she says.
Along with being a reliable outlet for reasonably priced fresh food, Ken's also is helping to strengthen neighborhoods from its storefronts on Plainfield Ave., Eastern Ave. and 28th St.
"Our customers remark that our stores have a positive impact on their neighborhoods," says Courts. "Our markets, along with other local shops, help keep more customers going to local businesses instead of bigger stores," including the Meijer near the Ken's on Plainfield Ave.
Gina and her husband Ken, who has been in retail since he was a teenager, monitor how larger stores price price their fruits and vegetables and then attempt to price their produce a bit lower. They consider their stores like downtown farmers markets that are open year round. The majority of each store's square footage is dedicated to nutrient-rich fruits and vegetables.
Ken's sources locally too, something the store has always done, long before it became a retail trend.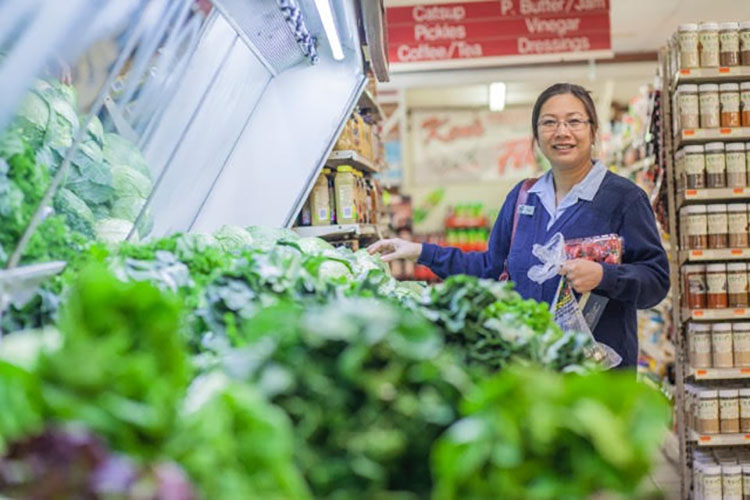 "Ever since the recession, customers are loyal to local," says Courts. "We try to find niche products like frozen Michigan fruits and vegetables and buy from local vendors and suppliers who can't supply to a Meijer."
The idea that customers, neighborhoods, and regional growers and producers all benefit from Ken's solid operating principles is one of the reasons the store received a $445,000 loan and $75,000 Catalytic Investment Award from the Michigan Good Food Fund last year.
The Michigan Good Food Fund is a $30 million public-private loan fund that finances good food businesses that increase access to affordable, healthy food in Michigan's underserved communities.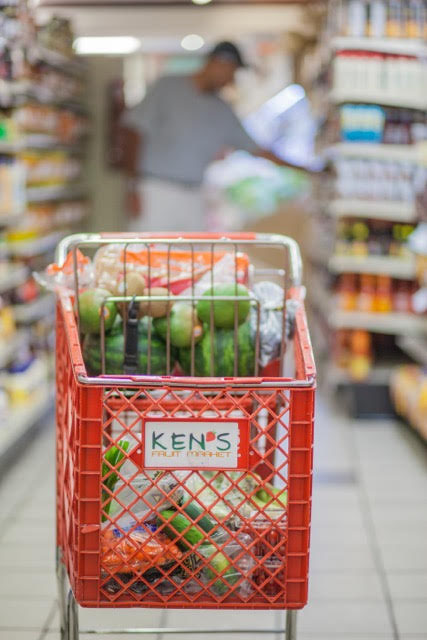 Olivia Rebanal, director of loan programs at Capital Impact Partners, a nonprofit that manages the funds, says that funding will help to assure that Ken's remains financially viable and strong. "They are committed to providing affordable produce. They have great relationship with vendors, so they're also supporting small food entrepreneurs," says Rebanal. "And, they bring that to a community that needs it."
The Catalytic award allowed Ken's to update essential equipment. Loan funds are helping Ken's consolidate and refinance debt and direct more money to staff and stores. Ken's employs 100 people, all hired locally—many of these long-time employees.
As a small, family-run business, banks didn't want to finance Ken's when it opened in 2010. As it grew, the Courts borrowed money from family and friends. MGFF support has eased that strain. Ken and Gina also received additional business assistance in the form of pre- and post-loan support focused on corporate restructuring and grocery operations. Legal support and help with streamlining processes and policies across multiple stores also benefited operations.
"MGFF met all our business needs and then some. Its terms were better than what was on the market and available to us, especially the interest rate," says Courts. "And the additional business assistance has been very helpful. This is not the type of support small businesses like us usually get."
On a larger scale, Michigan Good Food Fund is financing another project in Grand Rapids. It provided a $3.6 million loan for the development and construction of Diamond Place, a mixed-use, affordable housing development that includes retail space anchored by a community grocery store.
"The grocery store has been an integral component of this development since day one," says Jacob Horner, a development associate with PK Development Group, partners with Third Coast Development on the project. "The site itself is in the middle of a USDA-designated food desert. There is no real good grocery option anywhere around that area."
Early on, Third Coast Development conducted local charrettes with community residents, who vocalized two major needs for their neighborhood: affordable housing and a grocery store.
"There's been a ton of development around there, and folks are getting gentrified out, so the affordable housing was a very big component," says Horner. Of the planned 165 residential units, 107 will be rent-restricted for people making less than the area median income, as defined per section 42 of the internal revenue code and following IRS regulations for the low-income housing tax credit program. As an example, at Diamond Place, 76 of the units are set aside for households making 60 percent or less of the Kent County area median income, which is $35,820 for a family of three.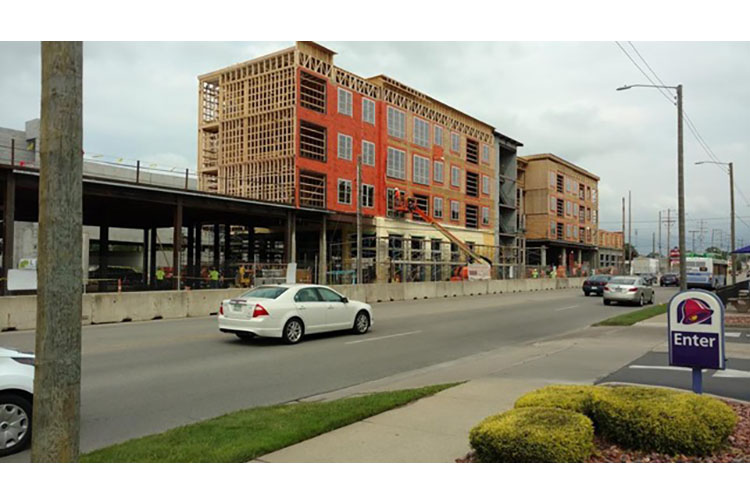 "For the grocery store, it's just been common knowledge around there that they absolutely want one and need one. The neighborhood's just been clamoring for it," says Horner.
The developers are looking at bringing in a merchant that offers affordability, with a focus on fresh produce and fresh foods, like meats and dairy, and less emphasis on the non-perishables and paper goods.
"We want this to be, obviously, good quality and everything like that, but we haven't really pursued the Whole Foods-type store that's a little more on the pricier side. Just from the demographics of the area, we don't think that would be a good fit," says Horner.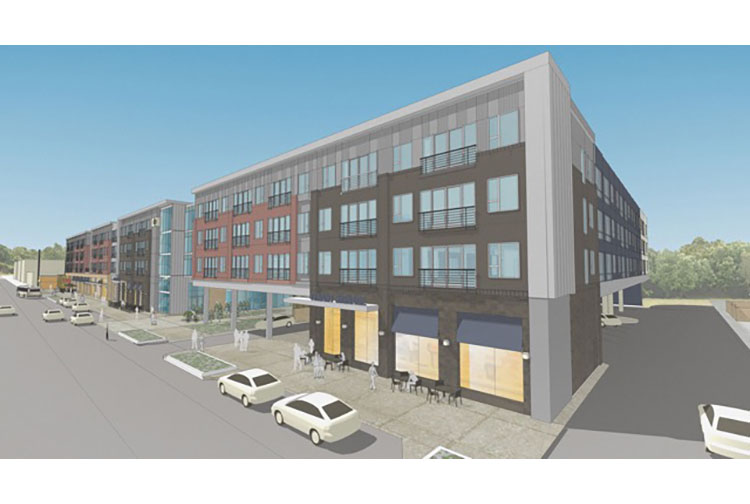 Diamond Place developers are talking to a number of grocers and are considering a broad range of options that are a good fit for the neighborhood and community. Like Ken's Fruit Market, Diamond Place plans to add to neighborhood vitality and economic growth.
The project is right in the middle of the Michigan Street Corridor, on Michigan at Diamond Ave. As development continues to move from west (at the Medical Mile) to east along the corridor, Diamond Place is one of the largest undeveloped sites. Its opening will help to continue the momentum of economic development down the corridor. Diamond Place is 40 percent complete with a projected end date of August 2018.
While construction is now underway and moving quickly, original financing for Diamond Place was relatively complicated. "Suffice to say that the financing was badly needed and difficult to get, and we could not get it from a conventional source," says Horner.
Capital Impact Partners and MGFF were integral to helping the project move forward, and MGFF dollars helped to leverage federal tax credits. Other project funding partners include JPMorgan Chase Bank, Cinnaire, Mercantile Bank, Michigan Economic Development Corp., Michigan State Housing Development Authority, Opportunity Resource Fund, and the City of Grand Rapids.
With backing from a number of corners and buy-in from residents, Horner considers Diamond Place a semi-public project.
"We could have bought the site and just put up as big of a high rise as we could have, and charged as much rent as we could, but that wouldn't have been embraced by the community, and we're long-term neighbors and owners here," says Horner. "We want to make sure that what we're doing is well-received by the community and going to be a benefit to a lot of different people."
Michigan Good Food Fund is providing financing for seven projects across the state in Grand Rapids, Detroit, Kalamazoo, Marquette, and Menominee. It supports a range of businesses that grow, process, distribute, and sell healthy food that reaches those who need it most. Along with Capital Impact Partners, other core partners in the fund are Fair Food Network, MSU Center for Regional Food Systems, and the W.K. Kellogg Foundation.
Investments by the Michigan Good Food Fund in neighborhood stores helps them to be relevant and competitive while offering healthy, whole, reasonably priced and locally sourced foods to those who need it most. By making good food accessible and affordable to more people, especially families with limited food budgets living in underserved communities, Grand Rapids is adding yet another link to becoming a healthier, more equitable city.
This article is part of Michigan Nightlight, a series of stories about the programs and people that positively impact the lives of Michigan kids. It is made possible with funding from the W.K. Kellogg Foundation. Read more in the series here.
First posted on Rapid Growth Sep 28, 2017.