By Serena Maria Daniels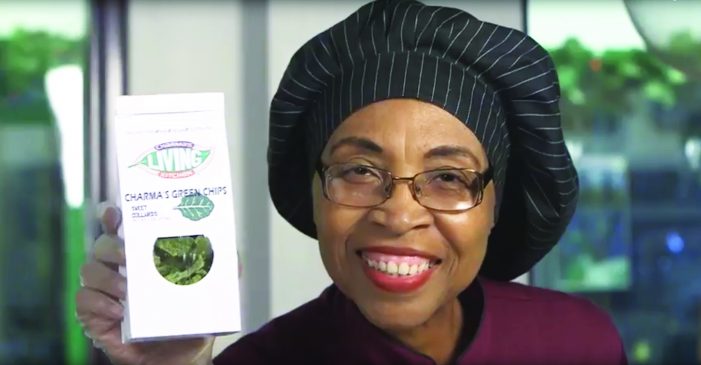 It all started with a morning news report about three years ago on a topic that, up until then, Charma Dompreh had not considered much
The anchor warned viewers that the segment that was about to air contained graphic material: there was an obesity epidemic among the nation's children. Somehow hearing this report struck a chord with Dompreh, a veteran school teacher with Flint Public Schools. So she began researching healthier cooking techniques and launched classes in the Flint community to introduce students to raw and organic recipes.
It was during her classes, that Dompreh came upon a recipe for kale chips.
"And then I thought, well what about collard greens?" says Dompreh.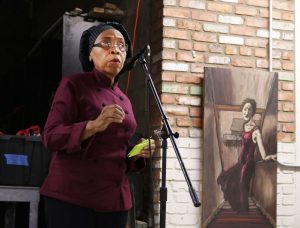 And that's how Charma's Green Chips was born. To take it to scale and get her recipe on the shelves of supermarkets though, she needed the help of family.
Dompreh began by testing recipes on her sisters and soon was bringing in her savory snacks to parties. She had to nudge people to try them at first – after all, the idea of munching on dehydrated kale, much less collard greens, was a bit of a foreign idea to her friends and family.
"Everybody knows kale is a bitter leaf, but I make mine different," says Dompreh, 68.
Dompreh isn't bitter at all. In fact, one of her signature flavors tastes like it has been coated in cheddar cheese, even though it contains no dairy.
That distinction set her apart from her competitors when, two years ago, she met with reps from Whole Foods Market to get Charma's stocked in Michigan locations.
She presented a panel with eight of her best flavors.
"They liked them all," says Dompreh, but they ultimately settled on three varieties of both the kale and collard greens: knutty (made with macadamia nuts), spicy and the "cheesy" type.
Now, Charma's is a state supplier for Whole Foods and part of a growing community of local food makers that are navigating the ins and outs of working with a major national retailer – stocking raw food shelves at locations in East Lansing, West Bloomfield, Midtown Detroit and Birmingham, as well as several grocers in Flint and a coveted spot at the Saturday market at Eastern Market in Detroit.
"We can't keep the chips in the Midtown market for more than 14 days," says Dompreh.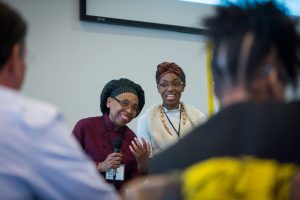 In fact, keeping up with demand is a dilemma that she and her partner Nana Dompreh, who happens to be her daughter, are trying to overcome. The duo has been in talks with Kroger about carrying Charma's with the supermarket. The trouble is, without the proper equipment or manufacturing facility, fulfilling consistent larger-scale orders would be difficult.
As it is now, the mother and daughter spend several hours a week in a commercial kitchen at Flint Farmers' Market. They source the organic greens from local farmers. And each batch must be dried for 17 hours.
Since the product is organic, the shelf life is relatively short, so they're packaged in one-ounce portions.
While the Domprehs seek funding to purchase the equipment needed to grow, they are finding other ways make their presence known.
That's where Dompreh, 31, comes in handy. With an MBA from Robert Morris University and her standing as a millennial, she has gone to work to connect with her health-conscious counterparts.
Although Michigan is not among the largest Kale growing states in the nation, MSU Extension deems its growth rate "impressive" and expects kale farmers to continue to proliferate as market demand grows.
"The economy now reflects more of an entrepreneurial spirit," says the younger Dompreh.
Go to the company's Facebook and Instagram accounts and you'll find the pages flooded with videos and photos that highlight the production process, from how the greens are cut to when they are being marinated.
"Health food wasn't really emphasized in the 90s, but we're representing those customers who now are spending more money on healthy food," Nana Dompreh says.
Kale has gone from a trendy to commonplace. You can find it everywhere and in everything, including on national chain menus like Chick-fil-A and Wendy's. Food market researcher Label Insight estimates that kale is in 420 products on the market now, ranging from packaged vegetables to energy bars.
In all, 2,500 farms reported harvesting kale in 2012, up from fewer than 1,000 in 2007. The state growing the most kale was California, where 390 farms harvested 1,680 acres in 2012, compared with fewer than 100 kale farms and 1,077 acres in 2007. Georgia ranked second and New Jersey third, narrowly beating Texas, according to a report published in Vegetable Grocers News.
Although Michigan is not among the largest Kale growing states in the nation, MSU Extension deems its growth rate "impressive" and expects kale farmers to continue to proliferate as market demand grows.
For mom's part, she's done a good job finding opportunities to get involved in the community,
furthering their exposure.
Most recently, the mother and daughter team competed in an intense three-day boot camp specifically for Flint-based food businesses. The training was sponsored by the Michigan Good Food Fund, a $30 million public/private partnership loan fund that provides financing and business guidance for entrepreneurs with a good food business model that benefits underserved communities across the state.
The winner, Happy Little Greens Farm, walked away with a $10,000 prize that will be used to purchase equipment to scale its indoor vertical micro greens farm on Flint's east side.
While Charma's did not walk away with the prize, Nana Dompreh says she and her mother were able to focus their business plan in a way that will allow their small-scale operation to function more efficiently.
In the meantime, retailers interested in carrying Charma's in their locations can visit charmasgreenchips.com
Editor's Note: Serena Maria Daniels is a freelance journalist and a contributor for TheHubFlint. Her reporting on the Flint water crisis appeared in Reuters, an international multimedia news organization. She is also an Equitable Cities reporting fellow for Nextcity.org, a nonprofit news organization and a regular contributor to NPR's Latino USA. Serena's background also includes food writing, with work appearing in the Detroit Metro Times, Hour Detroit, Lucky Peach, Extra Crispy and NPR's The Salt. You may find more of her work at serenamaria.com.
Meet healthy food producers and lovers, and learn how to incorporate kale into your family's meal plans at the Savor The Flavor of Flint event (January 27 ), hosted by the Michigan Fitness Foundation, Michigan Department of Health and Human Services and your friends at TheHUB. Learn more at:savortheflavorflint.com
First posted on The Hub Flint November 19, 2017.