This is the fourth in a series of stories about investments in Detroit good food enterprises that are working to increase access to affordable, healthy food.
Sausage has picked up a bad rap over the years. A really bad rap.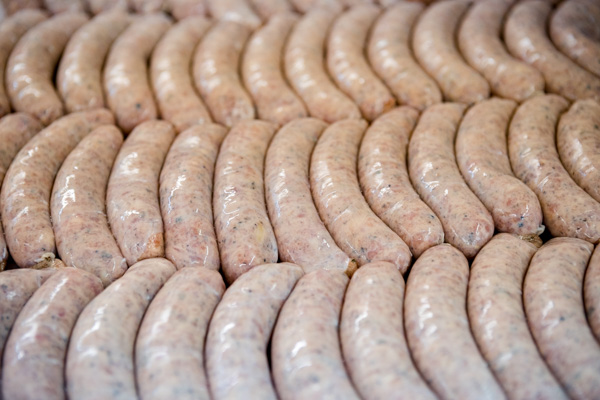 Catchphrases like "the making of laws, like the making of sausage, is not a pretty sight" are commonplace. For years, there's been a don't-want-to-know attitude around sausage ingredients and factories.
But Corridor Sausage Co., established in 2009 by Will Branch and Zachary Klein, has put the nobility back in sausage. Now based in Eastern Market, this artisan meat company is known for its flavors, freshness and operating ethics—qualities that set it far apart from mass-producers like Jimmy Dean or Eckrich.
The company avoids feedlots and animal warehouses, instead opting to work with farmers that don't use hormones or antibiotics. "Farm systems that we'd be proud to use, that are actually farmers," says Branch.
That attitude is the foundation of Corridor Sausage. "The cheapest product you can buy in the world has come out of a warehouse where that animal has never seen the light of day, and that's not what we're interested in," says Branch. "We're interested in something ethical, and having there be quality of life. It doesn't make us the cheapest product on the shelf, but it makes it a product that we're really proud of."
Additionally, the product itself creates almost zero waste. Branch says they don't throw out any proteins or finished product, using efficiency to eliminate waste. "Even if it's the end of the day, there's something that can be done with it."
Nine years ago, Klein and Branch, both chefs with extensive restaurant experience, started making 60- to 120-pound batches of sausage a couple days a week from a rented butcher shop in Howell. They sold it at Eastern Market and directly to restaurants.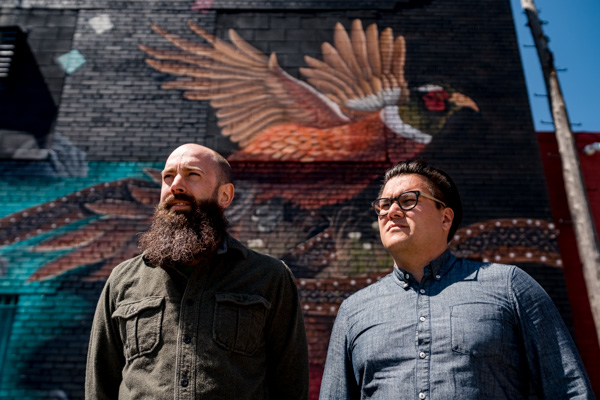 Once their popularity grew and they increased production, they still decided to forego the mass processing methods established over the past 30 years and take a different tact. So they created bigger, healthier flavors by using quality meats, fresh herbs, and hand-ground spices.
Scaling up, they scored their current space in the Eastern Market district just shy of one year ago. As a former meat plant, the building still had the license for meat processing. Today, Corridor Sausage produces batches up to 800-pounds.
Since Saturday markets were one of the first places Corridor sold its product (and still does), landing space in the historic meatpacking area felt right. Branch feels good about growing a business in the district, bringing in jobs and revenue.
Corridor Sausage has hired more than 50 employees in the past five years with 12 to 20 on staff at any given time. It conducts business with distributors within a few blocks.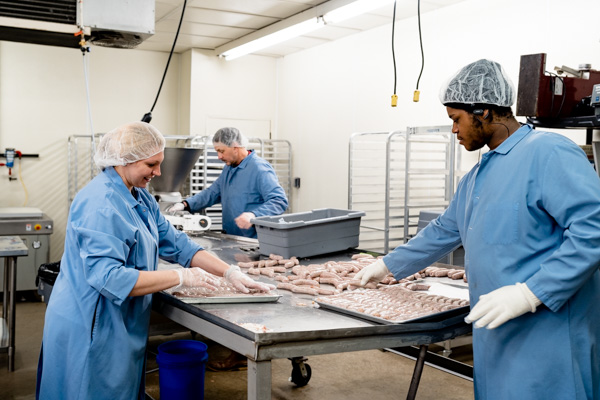 On solid footing and hoping to expand their retail reach through launching a new cooked sausage line, Branch and Klein applied for a loan through the Michigan Good Food Fund (MGFF), a $30 million public-private partnership loan fund that provides financing and business assistance to good food enterprises across Michigan. True to its name, MGFF focuses on economic development, food access, environmental stewardship, sourcing regionally grown and produced foods, and more.
Earlier this year, Corridor Sausage received the loan through Northern Initiatives to help finance and promote the new product line. MGFF has supported a variety of projects in metro Detroit with both financing and business assistance.
While growing its distribution across the country, Corridor Sausage remains a vendor every Saturday at Eastern Market. "It's still something we love to get out and do," says Branch. "Thankfully, I'm not the one waking up at 5:00 a.m. to go do it anymore."
Corridor Sausage is available in stores throughout Michigan, from co-ops to small chains to independent markets. It also sources as close to home as possible, with a majority of purchases from within 250 miles. Corridor has worked hard to build those sourcing relationships in the food system, which will be crucial as it launches a new product line.
The future holds promise for Corridor Sausage Co., and that promise transcends from the business world into personal life. Branch has a four-year-old daughter and sausage is a go-to meal.
In musing about making her sausage and scrambled eggs for breakfast, Branch says, "That's one of the things that's changed for me … focusing on something healthy for families."
This article is part of Michigan Nightlight, a series of stories about the programs and people that positively impact the lives of Michigan kids. It is made possible with funding from the W.K. Kellogg Foundation. Read more in the series here.
First posted on Model D on 14 May 2018.