By Melinda Clynes
This is the first in a series of stories about investments in Detroit good food enterprises that are working to increase access to affordable healthy food in low-income and underserved communities.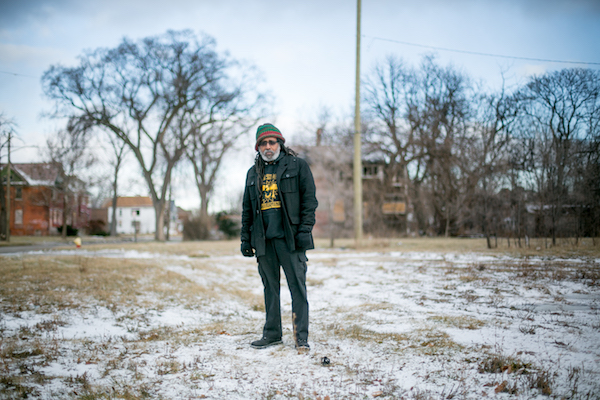 Malik Yakini's vision has never wavered. Since launching the Detroit Black Community Food Security Network and D-Town Farm over a decade ago, he's worked to foster a fair and equitable food system in Detroit.
Those two projects have pushed the envelope on food justice work, and Yakini has drawn international attention for his outspoken commentary on systemic racism, his ground-breaking work in urban farming, and his drive to make good food accessible for all, especially in underserved, disinvested communities.
But his next project, seven years in the making, is his biggest yet.
It involves building a new 30,000-square-foot complex in the North End called the Detroit Food Commons. To be located at the southeast corner of Woodward Avenue and Euclid Street, about eight blocks north of East Grand Boulevard, the commons will feature:
The Detroit People's Food Co-op, a cooperatively owned full-service grocery store with 7,500 square feet for retail and another 3,000 square feet of backroom storage space
A locally run, 50-seat café leased out to an experienced restaurant owner, yet to be determined (although three local operators have expressed interest)
Community meeting space spanning 6,000 square feet for conferences, banquets, lectures, performances, film screenings, etc.
An incubator kitchen with four workstations for aspiring entrepreneurs to prepare food in a licensed space; their  products will likely show up on the shelves at the co-op
Offices of the Detroit Black Community Food Security Network (DBCFSN), which are currently located at McNichols and Livernois
With all its amenities, the Detroit Food Commons, currently operating under DBCFSN, will be a shiny new complex in Detroit's North End, an area that's experienced years of economic hardships and is looking for development that will elevate the quality of life for its residents.
Juggling details and city departments
 
While the Detroit Food Commons will likely break ground in 2018, the process has been long and arduous, requiring a good deal of patience. DBCFSN currently has site control of the 17 properties on which the structure will be built; most are part of Detroit Land Bank Authority's inventory and a few are part of the Detroit Building Authority's. The site plan and the building design must be approved by the city before key city departments recommend to city council that these 17 properties actually be sold.
The project details would make anyone's head swirl. There have been architectural site plans and designs, revised plans based on city Planning Department feedback, environmental studies, community engagement sessions, and communication with multiple organizations, like the Detroit Economic Growth Corporation, the Mayor's Office and other city departments, including the Housing and Revitalization Department.
Yakini and his team also are working closely with Develop Detroit, which is serving as guarantor of the debt financing and also managing the housing development portion of the project. (Yes, there will be 65 units of new housing built in conjunction with the commercial project; the city's vision for Woodward Avenue and the North End is mixed-use development so housing has to be part of new developments.)
Out-racing escalating property values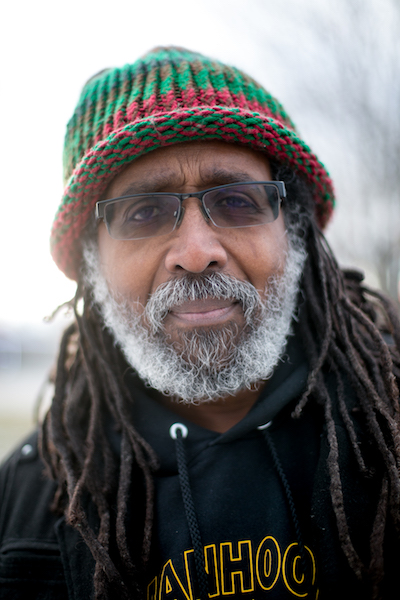 Citizen advocates are carefully watching the Woodward corridor for gentrification that could accompany development creeping north from Midtown. Yakini's project is sensitive to that. He wants to prevent long-time residents from being nudged out or priced out of the North End as land and buildings attract investors.
Yakini learned firsthand about how that nudge feels. One of the surprises he and DBCFSN encountered in pursuing land in the North End was how quickly the price of properties increased as they inquired about purchasing them. In some cases, the price of a property doubled in just six months, delaying the project for 18 months.
But Yakini was committed to the North End for a number of reasons. First and foremost because of its need for a grocery store.
"For us, this isn't just a business. In fact, it's not primarily a business, but more a community self-determination project that has a strong social justice component," says Yakini. "Serving a community that had a need was an important factor to us."
Attracting a broad range of consumers
Through consulting with people who have retail food experience, Yakini learned that the co-op would also need to be welcoming and comfortable to people of multiple income brackets. That became other key factor in choosing the North End community. It's made up of primarily low- and moderate- income households, with some more affluent pockets. And, being on the east side of Woodward, it's a convenient location for those who work in the city and live in the suburbs.
"It has the kind of mix that we were looking for where we can serve the need of folks who don't have abundant access to multiple options for obtaining good food," says Yakini, "but also has the mix of folks who might have a little more disposable income so that we can ensure the kind of income for the store that we need for it to be successful."
Placed centrally in this position of prominence, Yakini wants the Detroit People's Food Co-op to make a statement about the role that cooperatives can play in rethinking Detroit and cities like Detroit—serving as an example of rebuilding economies in a way that's fair and just.
"We want to be on Woodward Avenue to make that statement in the face of development happening in downtown or so-called 'Midtown' that is largely the kind of typical development that we see in the United States led by wealthy white men, where communities really don't have much of a stake in the ownership."
The Detroit People's Food Co-op will contribute to the economy in other ways. Yakini expects it to create at least 20 new full time jobs. And local urban farmers, both in the immediate neighborhood and throughout the city, will be able to sell their produce at the co-op.
Ideally, it will serve as an example of how black people and other people of color can work together to shape the communities where they live and work.
"In terms of the racial justice element of it," says Yakini, "one of the things it's doing is modeling how cooperatives can become a vehicle for intentionally disinvested communities to build community empowerment; to circulate wealth within those communities, as opposed to having it extracted; to create employment; and, most importantly, to create ownership."
Although clearly a black-led effort, it's not an exclusively black co-op. "It's open to anyone in the state of Michigan who wants to join," says Yakini. "We're trying to strike the delicate balance between something being black-led, but also being open and inviting to the entire community."
Building financing and support
Many funders and financiers have backed this project via loans, awards, grants, new market tax credits, and other program-related investments.
Michigan Good Food Fund has played a key role in supporting pre-development work through a $75,000 Catalytic Investment Award. Detroit Food Commons was among six healthy food retailers across the state that received awards granted by MGFF in late 2016; they were designed to catalyze high-impact projects with the goal to grow their capacity to successfully secure financing.
Yakini says the MGFF award provided leverage to attract other grants and funding. It has also provided technical assistance with the business plan, general advising, and a Bodega Boot Camp workshop for healthy food retailers that Yakini attended in 2016.
Additional support has come from the W.K. Kellogg Foundation, Detroit Economic Growth Corporation, Fair Food Network, Metabolic Lab, DeAndre Levy, Capital Impact Partners, and other financiers, foundations, and individuals.
Engaging the community 
Although its doors won't open for some months, the Detroit People's Food Co-op already has 176 member owners. The one-time, "member owner equity fee" is $200, which can be paid either in one lump sum or in six installments.
A relatively low fee was set intentionally to make membership as accessible to as many people as possible. Additionally, close to $7,000 has been donated for community empowerment scholarships, which will fund half the fee for those unable to afford the full price. Importantly, those receiving scholarships will still get the same benefits.
"It's not like a corporation where if you put in more money, if you buy more stock, you get more votes," says Yakini. "This is based on one person, one vote, so everybody has to come in at the same level."
(Eventually a website will allow for acquiring memberships online; in the meantime, interested people can call the DBCFSN office at 313-345-3663.)
Yakini hopes that this work will light a fire that spreads to other parts of the city. Ultimately he wants underserved residents to realize that they have the ability and responsibility to shape their own communities.
So later this year, when we start seeing the excavators, backhoes, and cranes at Woodward and Euclid breaking ground for Detroit Food Commons, we can be reminded that the intention for the development is all about giving power to the people who live in the surrounding neighborhoods—the power to choose healthy, affordable food that enables them to flourish and thrive.
This article is part of Michigan Nightlight, a series of stories about the programs and people that positively impact the lives of Michigan kids. It is made possible with funding from the W.K. Kellogg Foundation. Read more in the series here.

First posted January 15, 2018 on Model D Media.